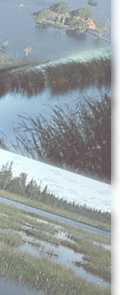 Humans and the Environment:
How do we co-operate?
Hello, and welcome! Whereas some environmentalist sites focus on how human industry harms the environment, my purpose is to show you how the industries of construction, landscape design and architecture have changed to ease their affect on the environment and make it easier for humans and nature to coexist. I have focused on the Seattle/King County area in Washington State, USA, because since it is local to me, it was relatively simple to gather my information. Please take your time to wander around the site, and if you'd like, tell me what you think!
---
| | |
| --- | --- |
| The Slough- The Sammamish River was rerouted in the 1960s for flood and farming reasons. Much of its surrounding vegetation was removed, not to mention the fact that it was straightened quite a bit. | |
| Cascadia CC- Cascadia Community College is currently(Feb 25 00) being built in Bothell, Washington. The building site is mostly wetlands, which the designers had to work carefully into their plans so as to disrupt as little as possible. | |
| So What? - What does this all mean, and why should you care? What is the future of ecology? Predictions, hopes, and fears from the author. | |